For the safety of our racers and volunteers, the 22nd Annual Fiddler 5K and One-Mile Fun Run has gone Virtual! Registration is available online only this year (click the registration button on the left of the screen). The dates for the virtual race are July 1 – 4, 2020.
All registered participants will receive a commemorative cotton/poly t-shirt. You may choose between a Unisex T-shirt and a Ladies Racerback Tank, and the shirts will be ordered after the end of the virtual race on July 4th. For local folks, you will have the option to pickup shirts in Smithville sometime the week of July 13th (details forthcoming), or you may choose to have us mail your shirt that week (for an additional cost).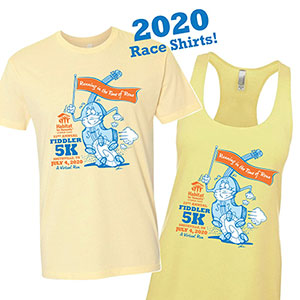 View a larger image for the "Running in the Time of 'Rona" race shirts.
You are welcome to run the regular Fiddler 5K or One-Mile Course for your Virtual Run (at your own risk -- we will not have traffic blocked). However, we will have the course marked with basic directions from July 1st to the 4th during the Virtual Run time.
No awards will be given. Bragging rights and supporting a great cause will have to do this year! If you upload your times in our virtual event on ItsYourRace.com between July 1st at 12 a.m. and July 4th at 6 p.m., you will be able to compare yourself to other participant's times. The uploaded times will begin showing the morning of July 4th.
Thank you for your support of the Virtual Fiddler 5K and Habitat for Humanity of DeKalb County, Tennessee, Inc. We look forward to hosting this event in person next year!
Questions? Contact us on Facebook@Fiddler5K
Qualifying Race for the Run the Cumberland Medal Series RunTheCumberlands.org.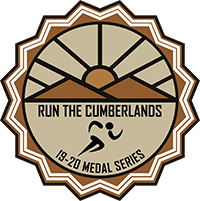 View the 2020 Virtual Fiddler 5k & Fun Run participants who ran the course July 4th! 2020 Gallery
2019 Overall Winners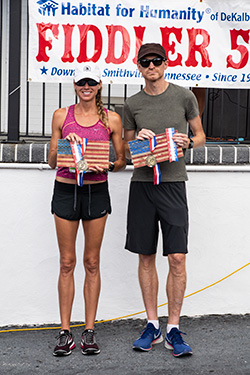 2019 Fiddler 5K
Overall Champions
Kristen VanVranken - 19:46
Jason Long - 18:03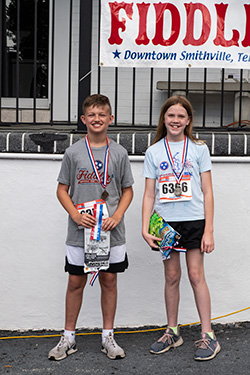 2019 Fiddler 5K
Overall Champions
Brady Adcock - 07:32
Claire Evans - 07:50